NCA Gallery at the Shirt Factory
Gallery Hours
Thursday to Saturday from 12:00pm – 5:00 pm
The NCA Gallery at the Shirt Factory is now located at Suite 120, formally the Shirt Factory's main gallery space, in the historic Shirt Factory building at 71 Lawrence Street, Glens Falls, NY 12801. NCA's new amazing and beautiful gallery space will be front and center in a building currently housing many local artists and their studios. We enjoy sharing the works of our members in this prominent location. Exhibits change every 4-6 weeks. 
Admission is free. The gallery is wheelchair accessible.
Contact us for inquiries about exhibition opportunities or more information.
Please click the buttons above to print Registration and Artist Agreement forms.
Aug
21
Sat
Journeys

@ NCA Gallery at the Shirt Factory
Aug 21 @ 12:00 pm – Sep 25 @ 5:00 pm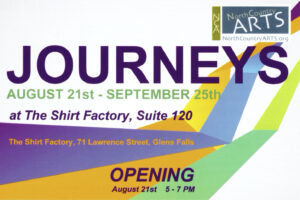 Journeys opens to the public August 21, 2021, from 5 to 7pm,. at Studio 120, The Shirt Factory, 71 Lawrence St., Glens Falls, NY.
Regular Hours are Thursday – Saturday, 12 to 5pm, and During the Food Truck Corral, Thursdays 5 to 8pm.
An array of new art in all media will be on display from more than 50 artists.
Registration Form
---
Fill out this form to register your artwork for a show at this gallery.