NCA Gallery at the Shirt Factory
Gallery Hours
Thursday to Saturday from 12:00pm – 5:00 pm
The NCA Gallery at the Shirt Factory is now located at Suite 120, formally the Shirt Factory's main gallery space, in the historic Shirt Factory building at 71 Lawrence Street, Glens Falls, NY 12801. NCA's new amazing and beautiful gallery space will be front and center in a building currently housing many local artists and their studios. We enjoy sharing the works of our members in this prominent location. Exhibits change every 4-6 weeks. 
Admission is free. The gallery is wheelchair accessible.
Contact us for inquiries about exhibition opportunities or more information.
Please click the buttons above to print Registration and Artist Agreement forms.
Nov
19
Sat
Celebration

@ NCA Gallery at The Shirt Factory
Nov 19 2022 – Jan 7 2023
all-day
Call for Art – "Celebration"
All media accepted. Artists may submit 2 works of art, 2D or 3D. 2D art must be ready to hang with wire and must not exceed 4′ in any direction.
Drop Off Sat. Nov. 12, 12-4pm. Fee: members $20, non-members $35
NCA Gallery, suite#120, The Shirt Factory, 71 Lawrence St. Glens Falls
Elizabeth (Betty) O'Brien Gallery
---
The Elizabeth (Betty) O'Brien Gallery is a small gallery, located within the North Country Arts Gallery, suite #120 in The Shirt Factory. The gallery was dedicated to Betty in January 2022, to offer individual artists the opportunity to have a solo show, and is available by appointment three times a year.
Betty was a talented award-winning artist, a beloved public school art teacher, an avid supporter and board member of NorthCountryARTS for many years, and was a cornerstone to the foundation of the greater Glens Falls Arts community.
She managed the Second Floor Gallery at City Hall for a long time, was one of the first tenants at the Shirt Factory, and was actively involved in the Shirt Factory Tenants' Association as well as with the Hyde Collection as an arts-in-education coordinator. She was a past president and longtime member of both the Upper Hudson Valley Watercolor Society and the Guild of Adirondack Artists, and kept busy in the arts community as a member of many arts organizations including Saratoga Arts, LARAC, the Guild of Adirondack Artists and others. Her presence, gifts, and generosity of spirit and time were formative and significant in the growth and development of the vibrant arts scene that we enjoy in our area, both organizationally as an arts leader and individually as a mentor and teacher.
Current Solo Show:
Oil Paintings by Susan Hoffer – through Nov. 12, 2022 susanhofferart.com
Image 1 title: "Open your eyes and you will see us: Proud of my Latinx roots" (24″x36″)
Image 2 title: "Just vote—but not against your own interests" (16″x20″)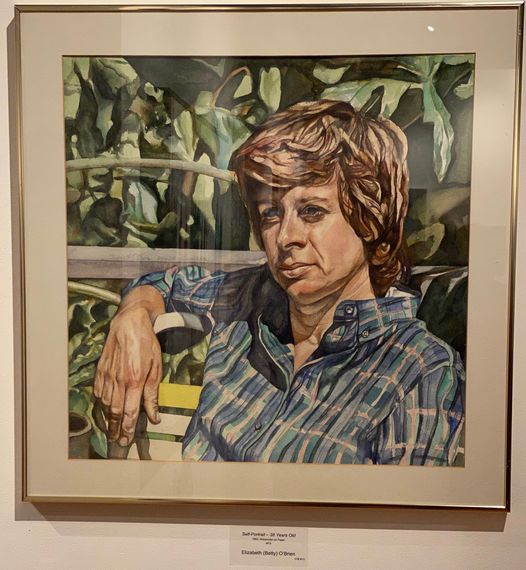 Registration Form
---
Fill out this form to register your artwork for a show at this gallery.