Jan
10
Mon
Susan Hoffer

@ 2nd Floor Gallery
Jan 10 @ 9:00 am – Feb 8 @ 4:00 pm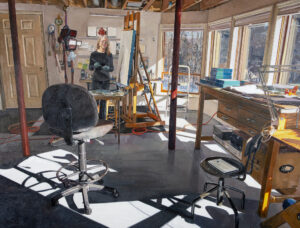 A multiple-award winning artist, Susan Hoffer lives in Upper Jay, NY, and has titled her City Hall exhibit "Dislocation and Disturbance." The subjects of her paintings are her "neighbors, family and friends, ordinary people with frayed cuffs and halos of light." Yet her paintings attempt to portray the stories of their lives subtly so that they become real people with real histories, often disturbing histories of being dislocated.
Ms. Hoffer is especially sensitive to people who have been "dislocated," forced to leave their own homes and migrate to different cultures. Dislocation was a major event in her own family. She tells the story of her grandmother, born in 1903, who was raised as an ethnic Gottscheer in the old Austro-Hungarian empire, now Slovenia. The Gottscheers were a minority group whose heritage is Bavaria in Germany, and who have their own language and customs. Ms. Hoffer's grandmother came to Queens, NY with her family in 1917 when her father's farm was confiscated by persons still unknown, and the family was dislocated.
Conversations with her grandmother motivated her artistic interests in portraying dislocated people and telling their stories through art. She finds many such stories in her Adirondack neighbors and friends.
Ms. Hoffer's paintings are in the permanent collection of the Albany Institute of History and Art, in the collection of the Adirondack Experience in Blue Mountain Lake, and in many private collections as well.
Written by Dennis Wilson
Jan
15
Sat
The Sweetheart Deal

@ NCA Gallery at the Shirt Factory
Jan 15 @ 12:00 am – Feb 26 @ 11:59 pm